Tomoe KAWAMOTO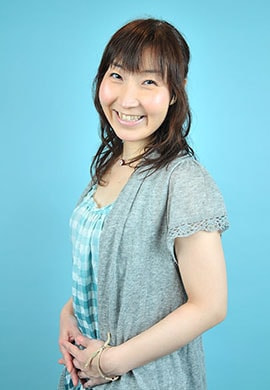 From high tone to low tone voice, can do any character from a teenage boy, lady/milf or an old woman!
Narrator, Voice Actor

【NARRATOR VOICE SAMPLES】
Voice Sample 1
Voice Sample 2
Voice Sample 3
【VOICE ACTOR SAMPLES】
Voice Sample 4
Voice Sample 5
Voice Sample 6

Love to speak out and express feelings, aim to tell in detail. The voice quality is a bit husky, but still can manage to control to make a voice from high to low tones to match with any character, any child, teenager, lady and/or elder. As a narrator, from energetic to modest and calm is available.
Speak both standard and Kansai dialect Japanese.
In-store Announcement (Drug Store)
In-store Announcement (Grocery Store)
Recycle & Junk Truck
Circuit Kirosene Selling Cars
Audio Museum Guide - Dinosaurs Exhibition
Audio Tourist Guide - Hakodate Nightviews
In-store Announcement (Drug Store)
In-store Announcement (Grocery Store)
Recycle & Junk Truck
Circuit Kirosene Selling Cars
Audio Museum Guide - Dinosaurs Exhibition
Audio Tourist Guide - Hakodate Nightviews

BUSINESS USE
Rendition CD Japanese Vintage Stories
CD SHEEP COUNTING Story
Radio Drama Voice-Lost Santa Claus, Graduation, White Canvas, etc.
On-line Story Teller
Corporate Flash Commercials
Street Vision Commercials, In-store Commercials, Promotionals, etc.
Amusement Machine Voices
ADVERTISING COMMERCIALS
VICS, Pachinko Niraku, Local Commercials
VOICE ACTOR
Short Animated Film Yoru-no-Akari
Maiden's Circumstances (Play Station 2), Nine's fox

BUSINESS USE
Rendition CD Japanese Vintage Stories
CD SHEEP COUNTING Story
Radio Drama Voice-Lost Santa Claus, Graduation, White Canvas, etc.
On-line Story Teller
Corporate Flash Commercials
Street Vision Commercials, In-store Commercials, Promotionals, etc.
Amusement Machine Voices
ADVERTISING COMMERCIALS
VICS, Pachinko Niraku, Local Commercials
VOICE ACTOR
Short Animated Film Yoru-no-Akari
Maiden's Circumstances (Play Station 2), Nine's fox
[%category%]

[%tags%]

[%lead%]